EdgeStar
CWR1551DZ
Item # bci

2794269
$1,299.00
EdgeStar 155 Bottle Built-In Dual Zone Wine Cooler - CWR1551DZ
List Price: $2,106.15
$1,299.00
You Save: 38%
EdgeStar 155 Bottle Built-In Dual Zone Wine Cooler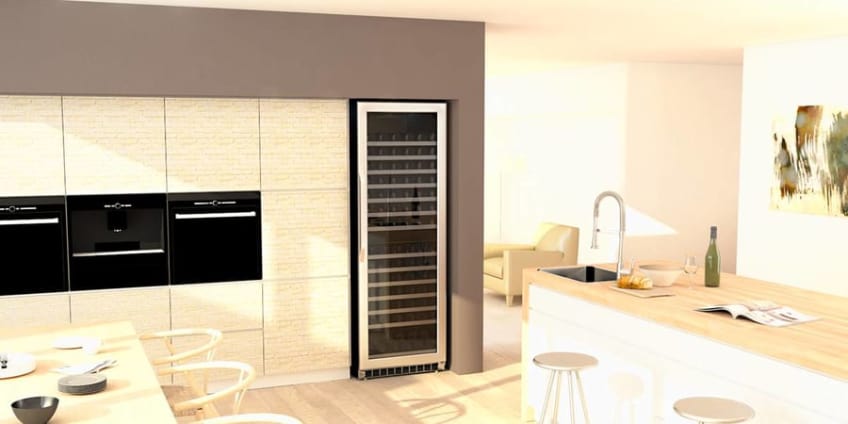 Edgestar built-in wine coolers are inspired by you to fit seamlessly into your lifestyle and suit your specific wine storage needs. This large capacity design has a 24" width and is perfect for a wine collector or avid entertainer as it will store and display up to 155 bottles of your favorite wine. Loaded with features and an elegant design this wine refrigerator is a popular choice that will perfectly blend into any home décor.
Dual Temperature Zones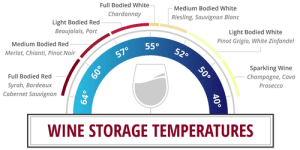 Achieve better tasting and longer lasting wine by chilling your reds and whites at their optimal temperatures. The lower zone has a temperature range of 54-64° F perfect for red wines and the upper zone has a range of 41-54° F perfect for white wines.
Air Cooled Technology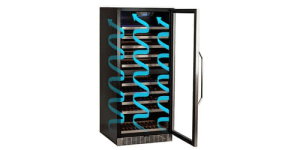 The entire interior will be cooled to your desired temperature as air cooled technology uses powerful circulation fans to evenly distribute cool air eliminating hot spots and uneven cooling.
Tinted Glass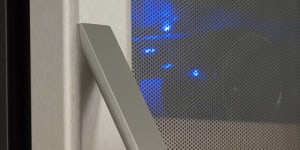 UV rays can cause a host of problems for any wine collection. In addition to providing unwanted heat, which puts needless strain on your cooling unit, exposure to UV light can alter the chemical makeup of your wine, potentially affecting taste and maturation. The tinted glass door ensures that while your wine bottles are visible, the integrity of your wine is protected from the potential harm of harsh light and UV rays.
Digital Controls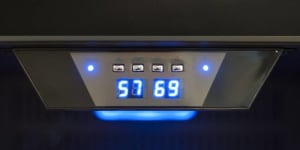 One of the most important elements of a cooling system is the controls. They should be accessible, easily understood, and provide you with accurate information on the exact temperature you are attempting to achieve. The intuitive touch control and digital temperature display allow you to easily adjust and monitor the desired temperature based on your specific cooling needs.
Elegant Design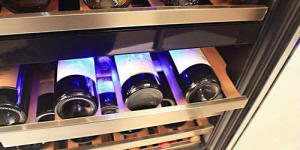 The sleek stainless steel trim door, matching slide-out stainless steel trimmed shelves and soft LED interior lighting provide a timeless design to showcase your treasured collection. Whatever the setting, these units are sure to spark conversation about their attractive and pleasing aesthetic.
Shelf Bottle Arrangement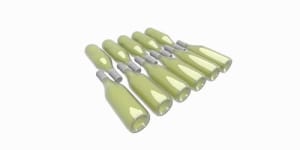 This shelf layout will allow you to achieve the maximum bottle capacity based on a 'Typical Bordeaux' bottle.
Reversible Door
The reversible door allows you to choose whether the door swings open to the left or to the right.
Bottle Sizes and Storage Capacity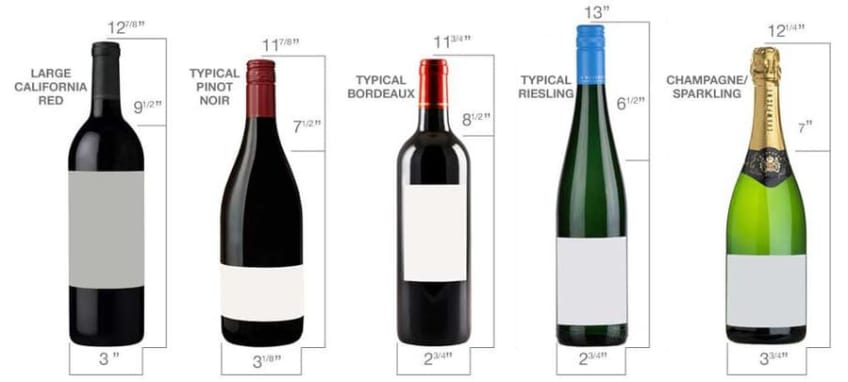 The standard bottle capacity is based off of the 'Typical Bordeaux' bottle dimensions. Please note that if storing larger bottle sizes, the bottle storage capacity will be reduced. The above image shows the different bottle dimensions of some of the most popular wine bottles.
You'll never have to worry about having enough room to store your red and white wine collection with the EdgeStar 155 Bottle Built-In Dual Zone Wine Cooler (CWR1551DZ). This super spacious wine cooler has 14 shelves total, 13 of which are full-size and capable of holding 11 bottles and a half-size bottom shelf that can hold up to 12 bottles, allowing you to store up to 155 standard 750 mL bottles total.
Dual Zone Operation:
Two (2) temperature zones allow you store both whites and reds at their optimal temperatures for better-tasting and longer-lasting wines
Modern Design:
The sleek stainless steel trim, soft LED interior lighting and matching stainless steel-trimmed wooden wine racks create a contemporary look that is sure to look great amongst any décor
Built-In or Freestanding Capable:
Front ventilation allows for flush-with-cabinetry installation while the fully finished black cabinet allows for freestanding use, as well
Even Cooling:
You'll never have to worry about hot spots or uneven cooling with this unit due to its powerful circulation fans, which work with the compressor to evenly distribute cool air throughout
Temperature Range:
This wine cooler's upper zone has a wide temperature range of 41-54°F while the lower zone has a temperature range of 54-64°F, making it ideal for all wine types
Digital Controls:
Touch controls and digital temperature displays for both zones allow for easy temperature adjustment and monitoring
Carbon Filter:
A built-in carbon filter protects your wine by acting as a natural barrier against harmful odors
Tinted Glass:
The tinted glass door ensures that while your wine bottles are visible, they are safe from the potential harm of harsh light and UV rays
Safety Lock:
You can rest assured that your wine collection is safe due to this unit's safety lock
Reversible Door:
Because this unit has a reversible door, you can choose whether it will swing to the right or the left
Dimensions
Depth: 26.75 Inches
Height: 69.5 Inches
Width: 23.438 Inches
Owners Manuals
You may download a product owners manual and product information below:
**Please note, Adobe Acrobat Reader is required to view pdf files