EdgeStar
CWB8420DZ
Item # bci

2794237
$729.00
24 Inch Wide Wine and Beverage Cooler with Dual Zone Operation
List Price: $1,041.43
$729.00
You Save: 30%
EdgeStar 24 Inch Built-In Wine and Beverage Cooler - Black and Stainless Steel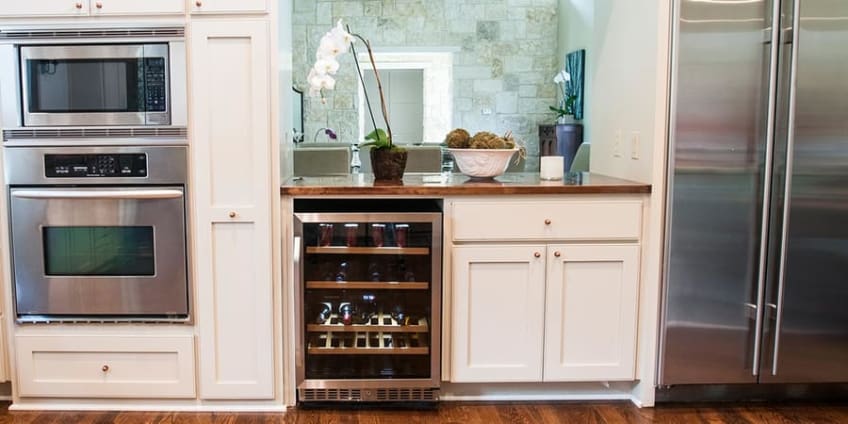 Edgestar built-in wine & beverage coolers are inspired by you to fit seamlessly into your lifestyle and suit your specific wine and beverage storage needs. This 24" design fits perfectly in standard undercounter areas and allows you to store and display up to 20 bottles of wine and 84 beverage cans. Loaded with features and an elegant design this wine & beverage refrigerator is a popular choice that will perfectly blend into any home décor.
Dual Temperature Zones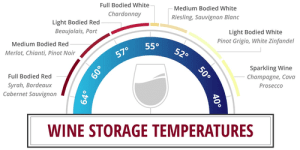 Achieve better tasting and longer lasting wine and beverages by chilling them at their optimal temperatures. Chill beverage cans in the upper zone, which has a temperature range of 36-43° F and wine in the lower zone, which has a wide temperature range of 41-72° F.
Air Cooled Technology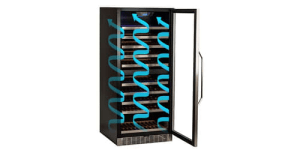 The entire interior will be cooled to your desired temperature as air cooled technology uses powerful circulation fans to evenly distribute cool air eliminating hot spots and uneven cooling.
Preservation Glass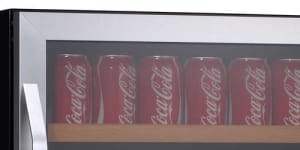 The dual paned, tempered glass door ensures that your wine and beverage collection will be protected from any potentially harmful outside elements. Tempered or toughened glass makes for a sturdier door that is less likely to shatter or break. The dual paned element helps ensure proper insulation and temperature control, which is an absolute necessity for both the average wine collector and the aficionado alike.
Digital Controls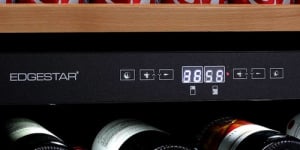 One of the most important elements of a cooling system is the controls. They should be accessible, easily understood, and provide you with accurate information on the exact temperature you are attempting to achieve. The intuitive touch control and digital temperature display allow you to easily adjust and monitor the desired temperature based on your specific cooling needs.
Elegant Design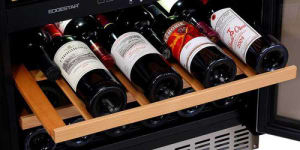 The sleek stainless steel trim door, soft LED interior lighting and classic slide-out wood trimmed shelves provide a timeless design to showcase your treasured collection. Whatever the setting, these units are sure to spark conversation about their attractive and pleasing aesthetic.
Shelf Bottle Arrangement
This shelf layout will allow you to achieve the maximum bottle capacity based on a 'Typical Bordeaux' bottle.
ADA Compliant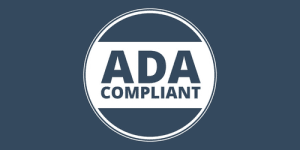 The 32" height makes this is an ideal choice for ADA-accessible homes and office spaces.
Reversible Door
The reversible door allows you to choose whether the door swings open to the left or to the right.
Bottle Sizes and Storage Capacity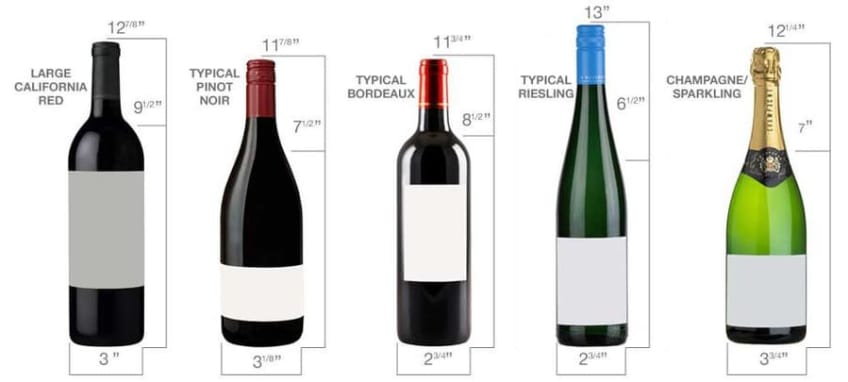 The standard bottle capacity is based off of the 'Typical Bordeaux' bottle dimensions. Please note that if storing larger bottle sizes, the bottle storage capacity will be reduced. The above image shows the different bottle dimensions of some of the most popular wine bottles.
No need to choose between a beverage refrigerator or a wine cooler, with the EdgeStar 24 Inch Built-In Wine and Beverage Cooler ( CWB8420DZ) you get the best of both worlds. You can chill and store up to 20 wine bottles in the lower temperature zone and up to 84 beverage cans in the upper zone.
Store Beverages & Wine Bottles:
Dual zone operation allows you to choose different temperature settings for your beverage and wine storage yet store them within the same unit
Built-In Capable:
Front ventilation allows for flush-with-cabinetry or undercounter installation while the fully finished black cabinet allows for freestanding use as well
Sleek Design:
The stainless steel trimmed door, slide-out wood trimmed shelving, and soft LED lighting add to an overall great presentation of your beverages
Dual Zone Operation:
You can store both wine and beverages at their perfect storing or serving temperature due to this unit's upper zone temperature range of 36 - 43ºF and its lower zone temperature range of 41 - 72ºF
Digital Display & Touch Controls:
Set and monitor the temperature of each zone using the centrally located touch controls and digital display
Even Cooling:
You'll never have to worry about hot spots or uneven cooling with this unit due to its powerful circulation fans, which work with the compressor to evenly distribute cool air throughout
ADA Compliant:
This beverage cooler's shorter height makes it ideal for ADA-accessible homes and office spaces.
Preservation Glass:
With dual paned, tempered glass doors, your collection will be protected from any potentially harmful outside elements.
Reversible Door:
Because this unit has a reversible door, you can choose whether it will swing to the right or the left
Safety Lock:
You can rest assured that your wine collection is safe due to this unit's integrated safety lock
Dimensions
Depth: 24.4 Inches
Height: 32 Inches
Width: 23.5 Inches
Owners Manuals
You may download a product owners manual and product information below:
**Please note, Adobe Acrobat Reader is required to view pdf files