Leaves the Warehouse in 5 to 10 weeks
Leaves the Warehouse Tomorrow, October 2nd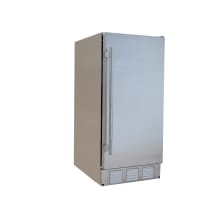 Leaves the Warehouse Tomorrow, October 2nd
Leaves the Warehouse Tomorrow, October 2nd
Leaves the Warehouse Tomorrow, October 2nd
Leaves the Warehouse in 2 to 5 business days
Learn About Ice Makers
Having access to a cold, refreshing drink on the hottest of days is one of the nicer things in life. When you're on the go,…
There are many benefits to having an undercounter ice maker that's built directly into your kitchen or home bar. Not only do you have ice…
If you are shopping for an ice maker, you might have trouble spotting the important differences between undercounter ice makers and the smaller portable ice…
Outdoor Ice Maker: The Easy Way to Stay Cool Without Leaving the Pool
A backyard kitchen complete with an outdoor ice maker makes an excellent upgrade to any home, as well as incredible bonus to your summer living. Think of the convenience of being able to serve your family, friends and neighbors without having to even leave the pool. Outdoor ice makers are quickly becoming the luxurious, must-have appliance for every outside bar or kitchen setup. We feature a wide assortment of outdoor ice machines all designed to withstand the elements of the climate in which you live.
The Benefits of Outdoor Ice Makers
One of the primary benefits of an outdoor ice maker is the convenience in which it adds to your life. No more having to fill up ice trays and hope the water freezes quick enough. No more traversing in and out of the house to cool your drink down. No more dirt being tracked in and air conditioning being let out. An outdoor ice machine eliminates all of these minor headaches and with a simple switch of a button you can be confident that enough ice will be available for everyone.
Another rewarding benefit of an outdoor ice maker is that you know your ice will be pure and clean. The built-in filter is designed to purify the water before it freezes, so you can rest easy knowing that you are serving up pure ice. With an outdoor ice maker, your guests can put their ice straight into their cups, and you never have to worry about being embarrassed when someone stares blankly into their cup, at some dirty ice.
How to Find the Best Outdoor Ice Maker for You
Outdoor ice machines are a perfect way to take your backyard bar or grill set-up to the next level. The added convenience is worth every penny and with proper maintenance and care, your ice machine will last for many years to come.
Depending on the make and model you select, each ice machine will come with specifications like a removable plastic bin, ice scoop, a digital thermostat, the option of different cube sizes and styles, and a stainless steel exterior. This means you can effortlessly select the ice maker that not only looks good, but is guaranteed to keep ice ready to serve for your friends and family.
To find the best outdoor ice maker for your home, browse through our assortment of products and read reviews that customers left on each ice maker. If you have any questions about ice makers, please give us a call.