Thermoelectric Wine Coolers
$660.00
+ Free Shipping
Leaves the Warehouse Tomorrow, October 24th
$415.37
+ Free Shipping
Leaves the Warehouse Tomorrow, October 24th
$260.00
+ Free Shipping
Leaves the Warehouse Tomorrow, October 24th
$399.98
+ Free Shipping
Leaves the Warehouse Tomorrow, October 24th
$368.00
+ Free Shipping
Leaves the Warehouse Tomorrow, October 24th
$290.77
+ Free Shipping
Leaves the Warehouse Tomorrow, October 24th
$306.15
+ Free Shipping
Leaves the Warehouse Tomorrow, October 24th
$169.22
+ Free Shipping
Leaves the Warehouse Tomorrow, October 24th
$169.22
+ Free Shipping
Leaves the Warehouse Tomorrow, October 24th
$299.95
+ Free Shipping
Leaves the Warehouse in 3 to 4 weeks, by November 20th
+ Free Shipping
Leaves the Warehouse in 10 business days
$279.95
+ Free Shipping
Leaves the Warehouse in 3 to 4 weeks, by November 20th
+ Free Shipping
Leaves the Warehouse in 3 weeks
+ Free Shipping
Leaves the Warehouse in 10 business days
+ Free Shipping
Leaves the Warehouse in 3 weeks
Learn About Thermoelectric Wine Coolers
Popular Articles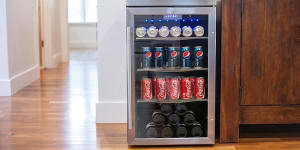 You might be thinking about buying a beverage refrigerator. Perhaps you're starting to entertain guests more, or space in your main refrigerator is now at…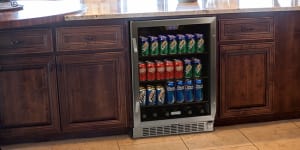 Whenever you're planning a big party or a small intimate gathering, one thing to consider is what your home bar space can accommodate. Perhaps you…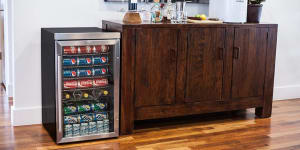 If you're shopping for a beverage refrigerator, you might be overwhelmed by all of the brands, features, and capacities available to consumers. Thankfully, making your…
Thermoelectric Refrigeration - Quick & Reliable Wine Storage
Does your current wine refrigerator take up too much space in your home? Is it loud and distracting, consuming too much energy to justify storing a handful of bottles around the clock? Available in many different sizes, finishes and capacities, thermoelectric wine coolers are affordable, quiet solutions to keeping your bottles perfectly chilled and ready to consume.
Whether you are looking to replace a standard wine shelf or simply want a more appropriate solution for chilling your wines—here at WineCoolerDirect, we have exactly what you need.
Benefits of a Thermoelectric Wine Cooler
Thermoelectric wine refrigeration is the quietest on the market, touting less physical moving components for a near-silent operation. Virtually no vibrations are emitted due to this stationary design, which is believed to affect a wine's overall quality—including the tastes and aromas we have all come to love. In addition, much less energy is consumed when compared to compressor cooling systems, so you can simultaneously chill your bottles while helping do your part for the environment. No matter where you plan on placing the wine fridge, you can rest assured knowing it won't cause distractions—seamlessly blending in with surrounding décor.
Most coolers come equipped with internal circulation fans to help maintain an evenly cooled interior, while insulated cabinets and thermopane glass provide unparalleled protection against harsh outdoor elements.
Without any type of front ventilation, thermoelectric coolers are freestanding by design, requiring some kind of clearance in order to supply proper air circulation to the cooling system. Unlike undercounter models, freestanding units can easily accommodate nearly any space with precision wine storage. Whether it's resting on the kitchen counter or freestanding in the entertainment room, these versatile wine fridges are popular contenders for any application. However, because of the cooling system, it is recommended that the surrounding ambient temperature is not too hot or too cold, as this will affect the unit's overall operation.
No matter if you're a strict fan of red, white or sparkling wines—or would easily enjoy a myriad of varietals, thermoelectric refrigerators offers small and large capacities to suit any size wine collection. These energy-efficient chillers offer vast temperature ranges from the low 40s to high 60s (°F), so you can ensure your preferred bottles are chilled to ideal serving conditions. Each unit features digital controls that allow you to monitor and adjust temperature settings, switch between time-saving functions as well as activate interior lighting.
If your collection consists of many different wines, then a dual zone cooler may be the best choice for you. Engineered with separately cooled climate zones, these units provide preset temperature ranges to accommodate specific types of wines. Make sure your favorite bottles of wine are properly preserved and taste how they should!
Upgrade Your Wine Experience
From classic, traditional styles to sleek and contemporary designs, thermoelectric wine coolers are well-suited for any aspect of your home. Browse leading brands such as Avanti, Koldfront or Vinotemp, and take home one of the quietest appliances you'll ever own.