Learn About Wine Decanters
Popular Articles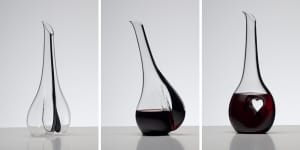 You needn't be a connoisseur to understand the value of quality wine. Riedel's decanter selection boasts unmatched quality, and the company's focus on glass quality,…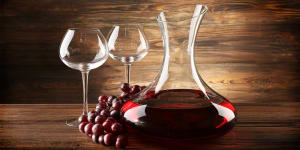 Everything You Need to Know When Buying A Wine Decanter Table of Contents What Is A Decanter? The Benefits of Decanting Wine Types of Wine…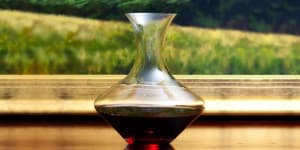 Sure, you may have been told you should aerate your wine or you may have seen a sommelier decant a bottle before, but few truly…
Wine Decanters: Enrich the Clarity & Flavor of Your Wine
Throughout the course of history, wine decanters have come in many shapes, sizes and styles, from ancient bronze vessels to exquisite Venetian glass. In a way, decanters are not just a practical accessory for serving wine, but also a nod to the time-honored traditions of aging and presentation. While some people might consider it outdated, decanting wine is still a popular practice among connoisseurs to eliminate impurities and improve overall flavor and aroma. Of course, not all wine requires this type of treatment, but in most cases you will find that a fine vintage wine looks and tastes better when served from a decanter.
Why You Should Use a Wine Decanter
One of the main benefits of using a wine decanter is that it allows you to remove sediment from your wine. During the process of aging, these particles settle at the bottom of the bottle. While these particles are generally harmless and unappealing, they still play a role in altering the flavor or aroma of your wine. Because of this, the process of decanting wine is recommended, especially for fine wines that have been aged for many years.
Decanting wine is a method of pouring your wine from the bottle to another vessel. This second vessel is the decanter. Typically, the wine decanter has a wide bottom that has a slow curvature up to a narrow spout. This design allows your wine to be spread out on a large surface to help the sediment settle. You will usually serve the wine directly from the decanter, as the shape of the vessel will not only help separate the sediment but also prevent it from being poured out into your glass. Decanting not only improves the clarity of your wine, but also the overall presentation and taste.
Another benefit of a wine decanter is that the process itself helps to aerate your wine. Much like swirling it in a glass, exposing oxygen to wine that has been confined to a bottle for long periods of time can do wonders for the aromas and overall flavor. Just the act of pouring your wine into the decanter will help infuse it with oxygen, and the wide-bottom design of wine decanters will help maximize contact with air as the liquid is spread out over a larger area. This exposure to oxygen will help your wine breathe.
As your wine breathes, its true flavor and bouquet will start to blossom. Not only does a wine decanter enhance the overall presentation of the wine, but it can help you receive a more enjoyable experience from the wine itself. Whether you are dealing with an expensive vintage port or a less expensive bottle of Cabernet, decanting for various lengths of time will change the taste of your wine significantly so you can distinguish each individual flavor. By removing the sediment and allowing your wine to breathe, you not only soften the wine but you will actually make it less bitter and more flavorful. This alone makes a wine decanter a must-have fornovices and sommeliers alike.
Choosing the Best Wine Decanter
Designs range from casual to formal and include a variety of convenient features, such as break resistant glass, indented ice cups or matching stemless wine glasses. Hand blown pieces and machine-made crystal are also popular options depending on your needs and some models come with a stylish stopper to control how long you aerate your wine. Many people simply choose not to pour the last inch or two of wine to avoid this sediment, but a well-made decanter makes it easier to spot sediment before pouring a drink. That is why most of our decanters are made from clear glass or crystal. If you like to entertain friends and family members on a regular basis, one of our elegant wine decanters from Spiegelau or Riedel can increase the clarity of your wine so that unsavory sediment is not the topic of discussion for the evening. Even for the occasional wine drinker, an attractive presentation can have a positive impact on your experience.
Here at Wine Cooler Direct, we have a wide assortment of wine decanters to choose from. All of our decanters are made from quality, long-lasting materials that are guaranteed to satisfy casual drinkers and aficionados alike. Whether you're looking for a gift for a loved one or just want a new decanter to add to your collection, we are confident you will find your next wine decanter here.