Popular Articles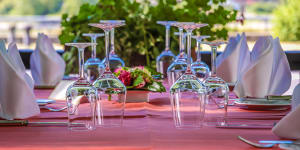 With all the different kinds of stemware available, it can be hard to choose a single glass or set of glasses to use for your…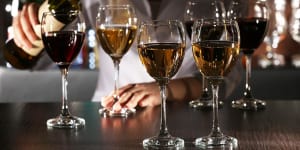 While most people primarily focus on the type of wine that is going be served, a good host cannot ignore an important part of wine…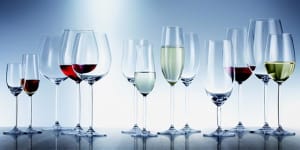 No matter if you are a newbie to the wine scene or consider yourself a pro, you have not truly mastered the art of drinking…
Stemware: Are You Experiencing the Full Flavor of Your Wine?
Ensure you experience the full flavor and aroma of your wine by using the proper stemware. Whether you are hosting a dinner party or simply enjoying a relaxing nightcap, the overall experience of your wine comes down to the glass it's swirling in.
On a practical level, a long stem eliminates the transfer of heat from your hand and reduces the number of fingerprints left on your glass. However, stemless wine glasses are extremely popular and far easier to store or clean. The shape of the glass itself, is what is important in regard to experiencing the true aroma and flavor profile of your wine. Stemware allows your wine to breathe, so its flavor profile continues to blossom as you enjoy it. Whether you go with a stemless wine glass or one with a stem, every wine enthusiast should have a nice set of glasses that are both beautiful and functional.
The Benefits of Using Stemware
Drinking from uniquely designed stemware comes with many benefits, especially for anyone who knows how to appreciate a fine wine. Each type of glass has its own unique features, carefully designed to complement certain characteristics of the wine, such as sweetness, color and acidity.
For example, it is recommended to drink red wine with a glass that has a wide bowl so the air can soften its robust flavor. On the other hand, white wine does not need as much exposure, so a taller, slimmer glass is the recommended glassware. Although these are the two most common types of stemware, champagne flutes are also a popular option for carbonated beverages, while dessert wine glasses are ideal for small portions of sherry or port wines. These factors may not seem important at first, but they truly can have a significant impact on how your taste buds process the wine as it goes across your palette.
Getting the Most from Your Wine Glasses
Stemware is always a great addition to any dining room or kitchen. As part of a place setting, they bring an air of sophistication to your meal that your guests are guaranteed to appreciate. If you only use your stemware on special occasions, a wine rack provides a safe place to store your stemware and your favorite bottles of wine, all without taking up unnecessary space.
However, an avid wine drinker with several different types of glasses would probably benefit from a dish hutch or a curio cabinet that can also double as an attractive display piece. There are even many wine credenzas and wine coolers that also function as storage for your stemware while keeping your wine at its perfect serving temperature. Either way, stemless wine glasses bring an element of beauty to the room that reflects your individual style as well as your flavor preferences when it comes to wine.
From full-bodied reds to lighter, crisper whites, we offer a wide variety of stemware to complement your favorite wine varietal. Whether you are a fan of Cabernet or Riesling, Burgundy or Chardonnay, we have the best wine glasses to fit almost any budget without sacrificing the quality and craftsmanship of the design. Choose between exquisite, lead-free crystal or machine-blown glass as well as a number of dishwasher-safe models that are easier to clean. You can even find wine glasses that are resistant to chips and cracks.
By purchasing a new wine glass set, you are making a commitment to future satisfaction and relaxation with your favorite bottle. Buy your wine glasses today and start cultivating a deeper appreciation for a fragrant bouquet.